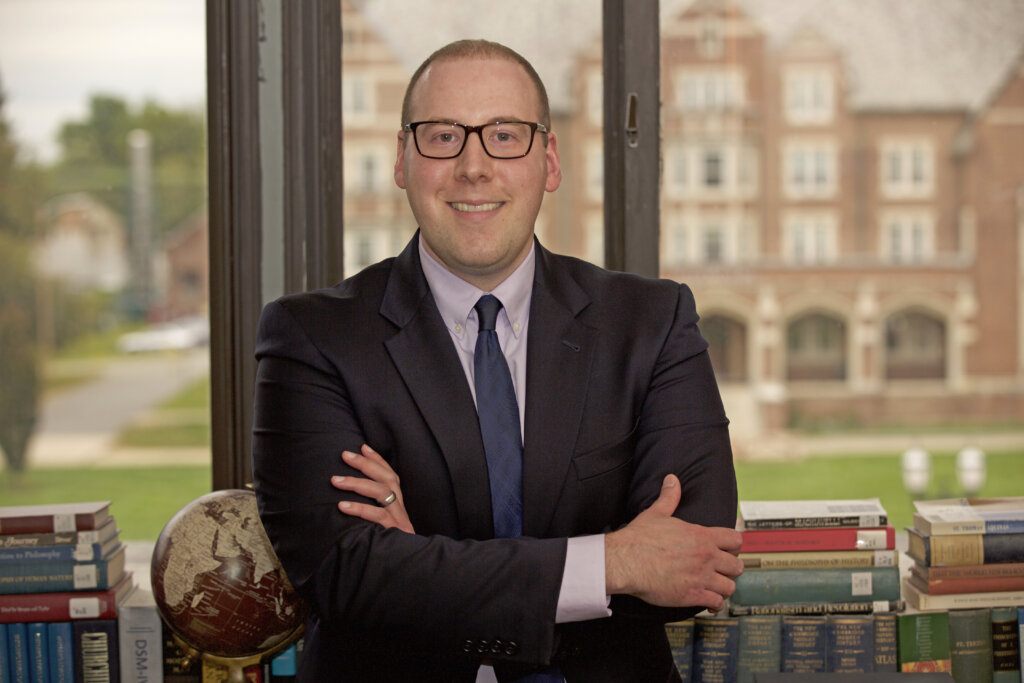 The COVID-19 pandemic and resulting shortage of key medical supplies and equipment throughout the nation's healthcare system has raised a multitude of ethical questions.
Who should receive priority for limited resources? How should the needs of vulnerable populations be addressed? How and when should information be provided to the public? What standards of care would be expected when staff, equipment and medications are insufficient to meet the demand and to provide the level of care that is expected during non-emergency times? What guidance should be made available to clinicians to assist them in making fair and responsible decisions under these circumstances?
These questions and more are addressed in the comprehensive ethical guidelines that Peter DePergola II, Ph.D., MTS, associate professor of Bioethics and Medical Humanities, developed for Baystate Health, where he serves concurrently as director of clinical ethics and chief of the Ethics Consultation Service.
DePergola said the response of the medical community to the comprehensive guidelines that he developed for Baystate Health and published for the world to see "has been incredibly positive, and it has significantly helped my colleagues at the bedside, both locally and otherwise."
The most difficult ethical issues that are arising at the bedside, he said, "are the fear of providers going to work every day, not having the typical standards of care at work, rushing very delicate conversations about end of life care, not requiring the usual permission to change the code status (i.e., CPR and intubation status) of patients, de-escalating critical care treatment, and seeing much more death than usual."
Following a letter he co-authored in partnership with the Hastings Center — the nation's largest bioethics think tank — and sent to the White House to implore the U.S. government to immediately use its federal power and funds to respond to the COVID-19 pandemic as a matter of moral imperative, DePergola was contacted the commissioner of the Massachusetts Department of Public Health (MDPH) and appointed to the Commonwealth's Crisis Standards of Care (CSC) Advisory Committee.
Composed of a 17-member group of high-octane experts — the majority of whom hailed from Harvard Medical School, Massachusetts General Hospital, Beth Israel Deaconess Medical Center, and Boston Children's Hospital — the CSC Advisory Committee formed the ethical guidelines for treating patients with suspected or confirmed COVID-19 throughout the state.
The meetings, held via the web meeting interface Zoom, "had vigorous debates about things such as who should receive limited resources in the event that not all can, and what clinicians should do in situations in which 'ties' arose in priority scoring between patients who were vying for the same scarce resource," DePergola said. "We talked about things such as the relevance of age, socioeconomic status, and contributions to society, as well as how (if at all) to adequately prioritize the care of healthcare workers."
The committee's document, titled "Crisis Standards of Care Planning for the COVID-19 Pandemic," was released in early April, and provides concrete guidance for the triage of critically ill patients in the event that the public health emergency caused by the COVID-19 pandemic creates demand for critical care resources that outstrips the supply.
"It was an experience that I never imagined being a part of," DePergola said. "Most shocking, perhaps, was the fact that I was the most junior member of an extremely elite group by some 20-plus years. Yet, based on my experience and expertise, the group genuinely wanted to hear what I thought, and how I had formed such a comprehensive guideline for the western part of the state at Baystate Health."
Shortly after the release of the CSC document, DePergola published a revision of the clinical guidelines he developed for Baystate Health in a 59-page white paper, "Ethical Guidelines for the Treatment of Patients with Suspected or Confirmed Novel Coronavirus Disease (COVID-19)," in the Online Journal of Health Ethics. His reason for publishing the guidelines, DePergola said, was so that "clinicians' moral distress may be mitigated and lives can be saved in a fair, reasonable, and objective way."
"It gained traction rapidly both nationally and internationally," DePergola said of the bioethics community's response to his paper.
Although he was contacted by multiple peer-reviewed journals to publish (in revised form) the comprehensive ethical guidelines he developed for Baystate Health, "In the spirit of the Sisters of St. Joseph, I chose a humble, free, and globally-accessible journal to make sure that everyone — no matter their geographical location or ability to pay — would have access to the guidance contained therein," DePergola said, adding that "The mission of the SSJs — to provide a high-quality education to those least likely to access it — is forever emblazoned in my mind."
The experience of writing the guidelines, while extremely worthwhile and desperately needed, did take a toll.
"I really can't tell you the emotionally dark place you enter when you write these guidelines, talk about them nonstop, and think about them all day, every day, for an extended period of time. I have felt like I'm living in a movie. Waking up to a racing pulse in the middle of the night is a regular occurrence in my house. Never in a million years did I think that the doctoral training I received in disaster bioethics would ever need to be applied in my personal life," DePergola said. "To think that the richest nation in the history of the world found itself needing to race to manufacture tens of thousands of ventilators, basic personal protective equipment, and contingency planning is absolutely astounding to me. It is a dark stain on our history, and we have much work to do in the future to make sure that whatever happens, whenever it happens, wherever it happens, we are prepared to deal with it."
This article was published in the spring 2020 issue of Elms Magazine.