After majoring in accounting and healthcare management, Marie Lafortune '17 launched herself into a rewarding career as an accountant with Meyers Brothers Kalicka.
Multiple Passions, Multiple Majors
Pursuing a double major isn't for the faint of heart. Between managing your course schedule every semester and developing different passions, you need to be on top of your game at all times. But it's rewarding — just ask Marie Lafortune '17.
After four exciting years at Elms as an accounting and healthcare management double major, Marie used her business IQ to land a job as an audit associate at Meyers Brothers Kalicka, a public accounting firm in western Massachusetts.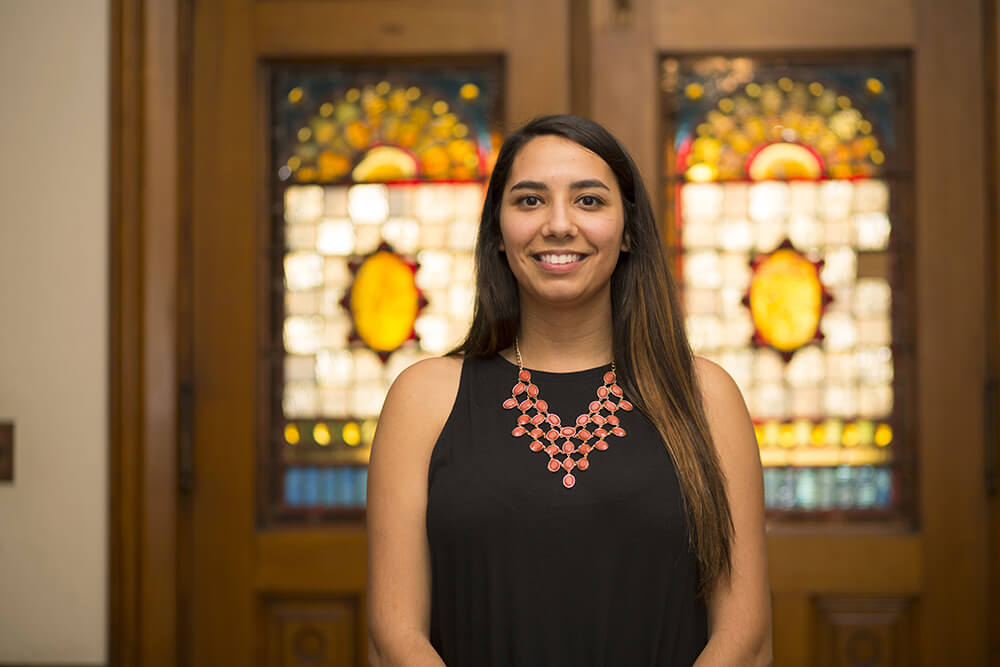 "Having a double major gave me a lot of exposure to different job opportunities," Marie said. "Both accounting and healthcare management have a strong business core class mix."
By exploring business from multiple perspectives, Marie said that she learned the basics of management, human resources, and marketing before focusing in on the technical sides of accounting and healthcare management.
Money in Western Mass
At Meyers Brothers Kalicka, Marie typically works as part of a larger accounting team, performing audits and preparing financial statements for a diverse range of clients.
"My daily responsibilities vary from season to season," Marie said. "I primarily work on auditing and attestation. But, during tax season, I also work on tax preparation for corporate and personal returns."
While most of us are familiar with tax returns, auditing and attestation might be a little less clear. Auditing refers to the process of analyzing and evaluating an organization's financial documents to ensure their accuracy. Attestation refers to the process of verifying the legitimacy of formal documents. Both aspects of accounting require Marie to draw on the holistic education she gained at Elms.
I draw on my liberal arts background when making ethical decisions and using my auditor's judgement
Accounting is more than just running the numbers for Marie. Instead, it's an opportunity to help the Western Massachusetts economy thrive, while also gaining a glimpse at some of the different amenities available to residents.
"I mainly enjoy working with nonprofit clients because I get to learn more about services that are available in my hometown area," she said.
Networking and Graduate School
Earning a certified public accountant (CPA) license is one of the primary motivators for students majoring in accounting. In addition to the lucrative pay, CPAs also uphold ethical standards that affirm financial integrity.
To prepare for the CPA exam, Marie is earning her master of science degree in accounting at Westfield State University. She expects to graduate in 2019, and then begin studying for the CPA exam. Marie credits her classes at Elms with giving her a solid foundation to prepare for graduate school.
"The undergraduate classes included a lot of research tools and case studies that prepared me for the comprehensive assignments we have in grad school," Marie said.
"I faced a bunch of challenges learning how to balance a full-time job along with two or three graduate classes," she added. "I'm halfway done now and can almost see the light at the end of the tunnel. Earning the title of CPA will be so rewarding."
Marie's advice to students thinking about majoring in accounting or business ties back to Elms College's well-known close-knit community.
"In a small community like Western Massachusetts, everyone knows everyone. The connections that Elms can provide are endless, and there are a number of networking events available for students and alumni to take advantage of and grow their professional network."
Elms College offers a wide range of business concentrations including accounting, entrepreneurship, healthcare management, management, marketing, and sport management. Contact us or schedule a campus visit to learn more.